Q: I was in your Moyock NC store and saw an item, but can't find it on your site. Do you sell it?
A: We stock thousands of items in our store in Moyock, NC. Only a limited selection is placed online. If you are looking for something other than what is on our site, please contact us.
Q: How much is shipping?
A: Shipping varies by the estimated order weight and the "zone" of the delivery address in relation to where we are in North Carolina. When checking out, you are presented with the shipping charge (if any), before ever having to enter any payment details. We do offer free shipping on certain items, and have tried to mark those clearly in the product decriptions. "Free Shipping" items will show "0.00" as the shipping charge when checking out, as will items for which shipping cost is "flat rate" and built into the item pricing.
Q: How soon do you ship?
A: Most orders are shipped the next business day after the order is placed (not on weekends or postal holidays). For fudge orders, there can also be a slight (1-2 day) delay if we need to make any flavors that are out of stock. We only ship freshly made fudge.
Q: How long does it take for me to get my order after you ship it?
A: Here is a UPS chart of transit times from our state (North Carolina-27958 zipcode) to various other states. Please remember that with UPS day "1" is the day after the package is picked up from us by UPS. So if the chart says "3 days" it realistically means 4 business days. If we ship via the mail then typically Priority Mail is used (unless you order aerosol sprays), and takes 2-3 days.
UPS times from 27958 (our zip code)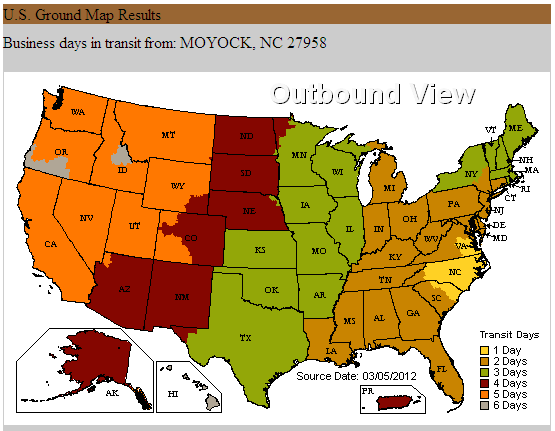 Q: I placed an order, and it has not arrived. Where is it?
A: If you ordered online, you can check order status here using just your email address and zip code: Order Status Link. Or email or call us (252-435-6247 ext 712) and we'll look it up for you.